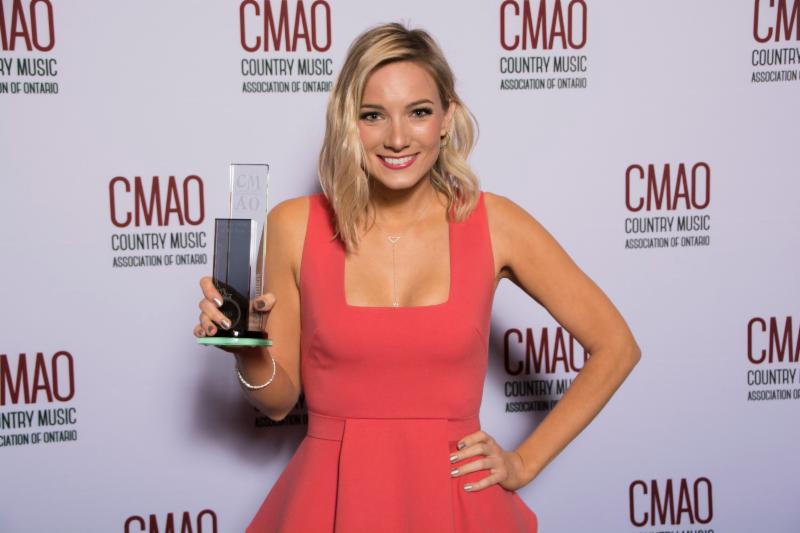 May 31, 2016 
LEAH DANIELS WINS FEMALE ARTIST OF THE YEAR AT THE 2016 CMAO AWARDS 
TORONTO, ON - This year's Country Music Association of Ontario (CMAO) Award for Female Artist of the Year was awarded to Canada's brightest new country singer-songwriter Leah Daniels. The win follows an exciting few months for Daniels, which included winning FACTOR'sBreakthrough Artist of the Year Award at the 19th Annual Canadian Radio Music Awards and the release of her debut album What It Feels Like (2015). The album scored Daniels her first Top 20 single on Canadian Country Radio and CMT. The award for Female Artist of the Year marks Daniels' second CMAO Award win and first nomination in the category. 
"This is so crazy. I really wasn't expecting this," said Daniels. "Being recognized by the industry is such an honour. I get so caught up with my music that nights like these always give me some perspective on how far I've come. The fact that the awards are so close to home make it extra special!" 
Daniels' new single "Your Kiss Is Killing Me" blends her love of both modern and traditional country with a dose of pop smarts and has established Daniels as one of Canadian country music's hottest new acts. From May 31 - June 3, 2016, Daniels will be headed on a radio tour through Ontario stopping in Peterborough, Belleville, Kingston, Ottawa, Hamilton, London and Oshawa. This July, Daniels will play multiple show dates across Ontario.