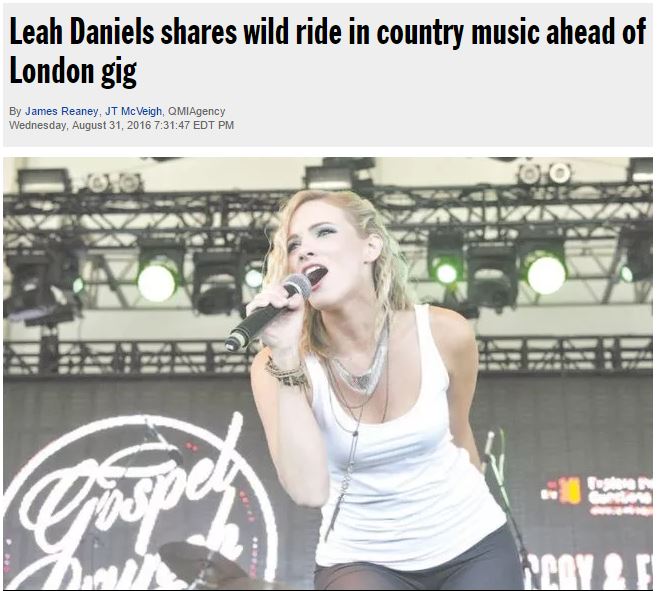 By James Reaney, JT McVeigh, QMIAgency 
Wednesday, August 31, 2016 7:31:47 EDT PM
Click here to view original article.

It's been a wild ride for Leah Daniels, from learning to yodel from her grandfather at his Uxbridge farm to playing Eliza Doolittle in My Fair Lady, to sharing the stage with some of country music's biggest names. 
That ride brings Daniels to London for 2016's Country Music Week which goes Sept. 8-11. Daniels is Canadian Country Music Association (CCMA) Awards nominees in the interactive artist category. She will be among hundreds of other performers and music industry professionals who will throng to the Forest City next week.She is to be with many of them on the John Deere green carpet leading to the Sept. 11 CCMA Awards show at Budweiser Gardens. 
"I grew up on a farm listening to country music, so it isn't something that is foreign to me, but it's funny the way that this is happening," Daniels told Postmedia News recently. 
Daniels is expected to be part of the CCMA event's tribute to The Tragically Hip set for the night of Sept. 9 at the Fanshawe College and Downtown London stage on a closed section of Talbot Street. Details are still TBA. 
Daniels was among countless Canadian on social media who shared their emotions about the Kingston rock band's Aug. 20 hometown concert. 
Her social media touch made the news this week when she was among the first to tweet a salute to London for being named as host city for the 2017's Country Music Association of Ontario (CMAO) awards show. Daniels won the 2016 CMAO female artist of the year category this spring. 
"This is so crazy. I really wasn't expecting this," Daniels said of that honour. "Being recognized by the industry is such an honour. I get so caught up with my music that nights like these always give me some perspective on how far I've come." 
She just keeps going. Daniels' recent single Your Kiss Is Killing Me blends her love of both modern and traditional country with some pop. 
Daniels began her musical career studying musical theatre in college and performing in a number of musical productions. Then, singers like Shania Twain and Sarah McLachlan inspired Daniels to begin to pen her own work. 
"I love all music but when I first started writing my own songs is was almost pop, a little bit of R&B kind-of thing," Daniels told Postmedia News. "But as I continued writing more of my own stuff, a friend said to me, 'Leah, did you ever notice that this could be a country song?'" 
When she looked at the stories that she was telling, she started seeing herself going country. 
One of the things that has steered Daniels' career to blossom is co-writing and collaborating with other songwriters. 
"I started writing with other people and that was a big thing because I always wrote by myself, but my friend Sam Ellis, who produced my first album, suggested it," said Daniels. 
"And I thought, that seems freaky because my songs are so personal. It was like sharing my diary, but I can't see myself not co-writing now." 
Daniels also had a CMAO songwriting nod for co-writing Dream Without You along with Aylmer-tied Beverley Mahood and Patricia Conroy, a Canadian based at Nashville. 
Working as hard as Daniels does as an independent artist sometimes makes her feel that she is working in a bubble, not really sure if she is making an impact. 
"As an independent artist, I do so much of it myself, obviously the writing but I produced some of the songs on my album," said Daniels. "And being an artist starting out now you have to be a part of all that now, the day of signing with major labels and them doing all of the work has long passed." 
When Daniels was a girl, she didn't see that there would be all of this work, the writing, producing, back and forth with e-mails. 
"It's craziness, you are constantly trying to break down barriers, but it makes it so much more rewarding when the awards do happen," said Daniels. "You think, 'OK, I did this.' That's what counts." 
Win or not at the CCMA Awards show, the Daniels ride continues in September. 
Later in the month, Daniels will be in Toronto at the Phoenix Concert Theatre on Sept. 22 as part of the Canada's Walk of Fame festival. 
JReaney@postmedia.com 
Twitter @JamesatLFPress 
--- --- --- 
IF YOU GO 
What: Selected details about the CCMA's 2016 Country Music Week. 
When: Thursday, Sept. 8-11. 
Where: Venues around London, including a section of Talbot Street between Dundas and King streets which is closed as of Tuesday and the fest's duration. 
Details: Grand finale on Sept. 11 at Budweiser Gardens is preceded by the CCMA Awards show countdown concert at Talbot Street venue (3 p.m.) and John Deere green carpet (4:30 p.m.) with 2016 CCMA Awards show (7 p.m.) at the downtown London arena. Visit ccma.org for details